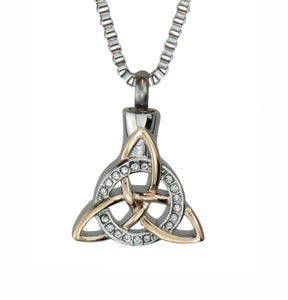 Celtic Trinity Knot Cremation Ashes Pendant - ETJ50
This ashes urn pendant is a celtic trinity symbol with high quality clear Czech Crystals with rose gold plating on the front.
Designed to hold a small token amount of a loved one's ashes, ensuring that there is always a part of them held close to your heart.
The pendant itself measures approximately 2.2cm/0.86" in overall height and 2.4cm/0.94" in width.
The solid 316L Stainless Steel 'box' chain measures approximately 51cm (20").
Each Pendant comes beautifully presented in its own gift box and includes a small plastic funnel to help when filling the pendant.