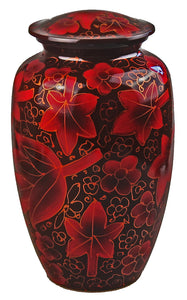 Large Red & Gold Leaves Urn - ETL16
The urn is perfect for an adult or large dog's ashes, it is made of solid aluminium ensuring it can be buried if desired as it will never degrade. It is handmade with intricate gold patterns with red leaves on a dark red background. 
The urn measures approximately 10.62inches/27cm high x 5.9inches/15cm wide and 6.29inches/16cm deep.
Capacity is 3.65l which is suitable to hold up to approximately 99.8kg/220lbs of body weight before cremation. 220 cubic inches of ashes.
This urn has a tightly closing threaded secure lid.
Each urn is completely handmade and so is 100% unique and will differ slightly from piece to piece.