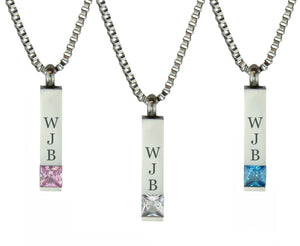 Personalised Quantum Cremation Ashes Pendant in Clear, Pink & Blue - ETJ39
This ashes urn pendant is made from 316L Stainless Steel which can feature initials / name of your choice along with a quality Czech crystal in Clear, Blue or Pink.
Designed to hold a small token amount of a loved one's ashes, ensuring that there is always a part of them held close to your heart.
The pendant itself measures approximately 3.3cm/1.29″ in overall height and 0.6cm/0.23″ in width.
The solid 316L Stainless Steel 'box' chain measures approximately 51cm (20").
Each Pendant comes beautifully presented in its own gift box and includes a small plastic funnel to help when filling the pendant.
Place the name you would ;ike on the front in the space provided (leave blank if you don't want a name on the front). We can also engrave 1 line of text with up to 12 characters on the back of the pendant.
If you would like an engraving on the back choose the engraving option and then enter your engraving in the space above.
.